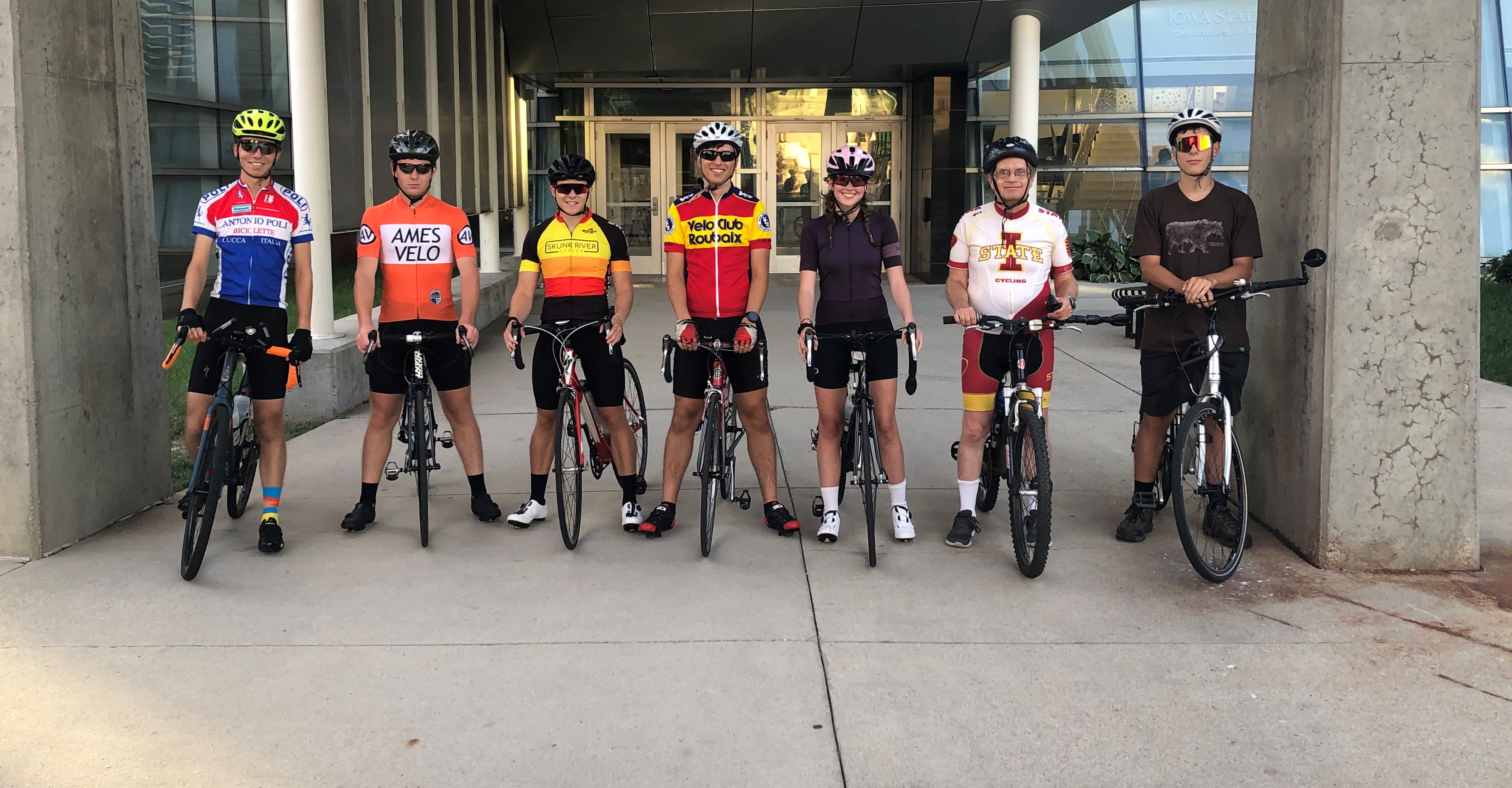 Cycling Club is all about enjoying life behind bars. All riders are welcome, whether you are road, gravel, casual, or a pro, you have a place in our club!
The Iowa State University Cycling Club provides a welcoming social community to cyclists of all kinds and skill levels for recreational and competitive riding. Whether you want to cruise around town, race with the top categories or anything in between, Cycling Club is for you!
News & Announcements
This organization has no announcements to display
---
Membership Information
If you would like to join Cycling Club, select the "Join" button at the top right of the page. Then, log in with your ISU Net-ID and follow the prompts. Please write a paragraph about any bike experience you might have and why you would like to join Cycling Club. Once you are accepted as a member, more information will be sent about how to stay updated for any events and club rides.
---
Benefits
Connect with other members who share a passion for cycling!
Our club Discord server has several channels for communicating with other Cycling Club members and receiving updates about events. Organize rides, carpool to races, and ask about bike maintenance or mechanical issues.
Group Rides
Weekly group rides will be held when the weather allows. These are usually held on alternating Monday/Tuesdays and meet outside Howe Hall at 5:30pm (time and place may change). Updates will be posted on the Discord server.
Training Rides
Ames Velo organizes training rides via their Facebook page, Ames Velo Rides, with regularly scheduled rides on Tuesdays, Wednesdays, and Thursdays. Visit their website linked above for more information about each ride day as well as review their Group Ride Guidelines.
Race Funding
A portion of registration costs for collegiate races within our conference will be paid for by the club. Additionally, a portion of the travel costs will be covered for these collegiate races. (Please note: The club cannot reimburse you. Please contact an officer if you plan to register for a collegiate race within our conference)
Free Ames Velo Student Membership
When you become a member of Cycling Club you are eligible for a free student membership to Ames Velo, the renowned local cycling club here in Ames. They help our club train for races and have indoor storage/training space as well. Learn more at amesvelo.com.
---
North Central Collegiate Conference
http://collegiatecycling.org/ncccc/
Carleton College
Iowa State University
Lake Superior College
Saint Olaf College
South Dakota School of Mines and Technology
University of Iowa
University of Kansas
University of Minnesota-Duluth
University of Minnesota-Twin Cities
University of Nebraska-Lincoln
---
Other Club Resources
Below is a link to a compilation of resource links related to Cycling Club and cycling in general, including our social media accounts.
---