Hit the Subscribe button to see all of our events
and be added to our mailing list!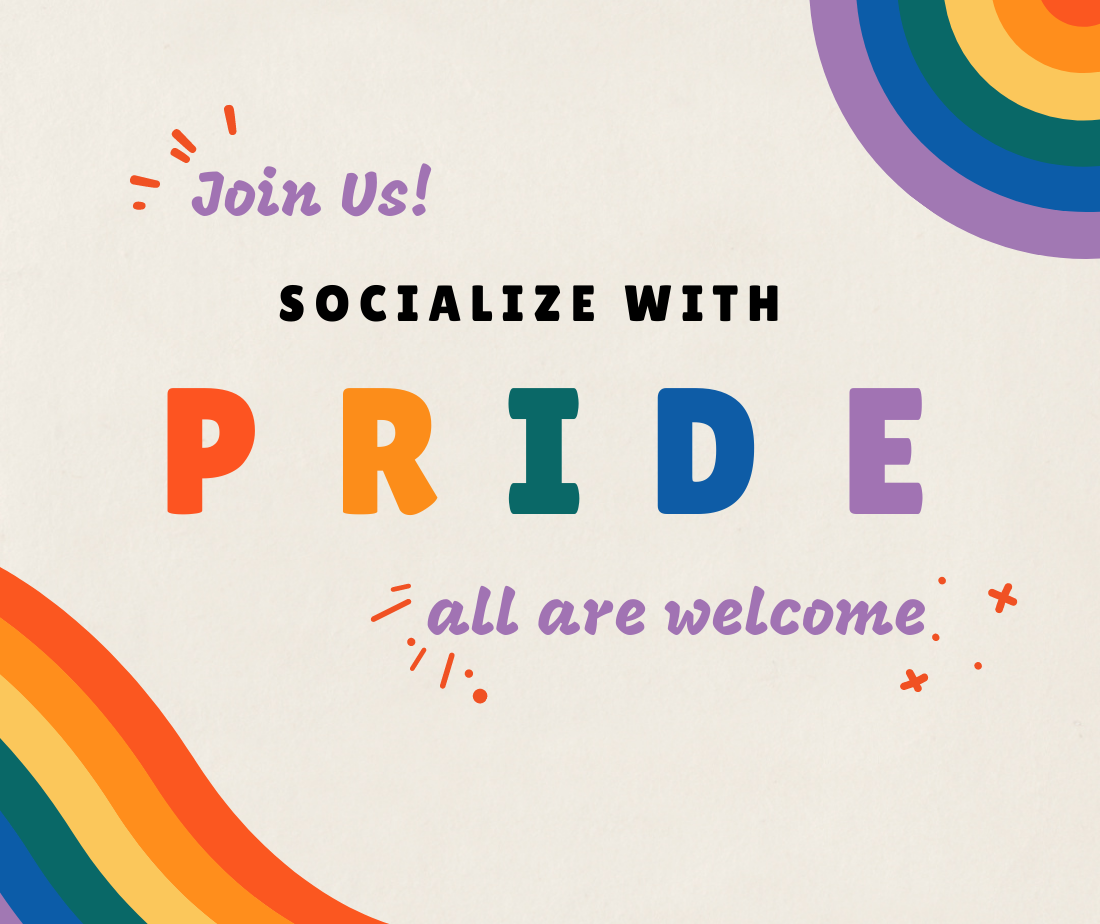 Socialize With Pride is an inclusive community for lesbian, gay, bisexual, transgender, queer, intersex, and asexual people to meet others in the community with minimal obligations. We accept any person, with or without a label, who may feel like they are part of the LGBTQIA+ community.
News & Announcements
September 20, 2021

GroupMe

Hi Everyone,

I hope everyone is having a great start to the school year. I cannot believe that we are already a fourth of the way through! This year, we have a gained an abundance of new members, which means we need to change platforms for our club group chat to accommodate everyone! Our new group chat will now be in GroupMe. We will probably be adding an additional platform in the next couple of weeks, so keep a look out for the information as well! To join GroupMe, please follow the link below.

You're invited to my new group 'Socialize with Pride Members' on GroupMe. Click here to join: https://groupme.com/join_group/71138581/243wv5UF

This group will be for communication purposes between members and officers. Any question you may have can be asked here, as well as any comment or concern. All events will also be posted in this chat to make it easier for members to find information. On that note, we hope to see everyone at the next club meeting on Friday!

Best,

Kate Budziak

President of Socialize with Pride
October 15, 2021

Needing Some Info??

Greetings Mortals,

Happy Friday! We made it through yet another week of unpredictable issues and struggles. Congratulations. There are a couple things that I wanted to mention to everyone, in case anyone forgot or never heard in the first place.

The "Event Volunteer Sign Up" excel sheet is for any member of the club to look at and edit. This is the place you go if you want to sign up for any extra opportunities through Socialize with Pride. Any questions about this can be directed to me. At the moment, there are two upcoming events that have spots open.

Homecoming Parade: Sunday, October 17 at 2 pm. We will need to arrive early, so please plan on getting there at 1 pm. Wear your best dressed pride attire to showcase what our club is about!
Live Green Tabling: Wednesday, October 27 from 10 am- 2 pm. It will be on the South Campanile Lawn. This event involves speaking with people in the community about what our club does and how to get involved. On the sign up sheet, there are 30 minute time slots. You may sign up for however many you want. We would love to have our members help out with this!

Next Club Meeting

Halloween Party: Thursday, October 21st from 7-9 pm in Carver 0305. Make sure to wear your best dressed Halloween wear, but be aware that we will be painting! We will have drinks, snacks, and mini pumpkin painting. Let me know if anyone has any questions about this!

Group Me

This is the official group chat for Socialize with Pride. We will put polls in it to make decisions, mention all upcoming events, and answer any questions. Please use the "campus connect" on GroupMe and search up Socialize with Pride. You will then be asked if you are in the club, and I will accept you into the group.

Club Member Ambassadors

I am excited to announce our newest officer addition: Harry Smith and Brynna Gloeckner!
They will be your go to for anything involving concerns about the club or new ideas. Please do not hesitate to reach out to one of them, or talk to them at our next meeting!

All of these things are great ways to get more involved in the club. If you have any concerns or suggestions, do not hesitate to reach out to the club member ambassadors. They are there to help! As always, all questions can be directed to me, or the officer team. Have a great weekend!

Best,

Kate Budziak

President of SWP
October 18, 2021

Live Green Tabling

Happy Monday!

We have another great opportunity for members to get involved. It is going to be helping out with running a table at the Live Green Event! This will take place from 10 am til 2 pm on October 27th on the South Campanile Lawn. There are 30 minute time slots to sign up for, so you can sign up for as many or as little as you want! Just a heads up, this opportunity does involve talking to people about what Socialize with Pride is and does for our community. We would love to have anyone come help us run this booth, so we can share our club with more of campus! The link to sign up is down below. Have a great week!

Best,

Kate Budziak
Check out some amazing photos of our friends at SwP!