Engineers Without Borders is a non-profit humanitarian organization established to partner with developing communities worldwide in order to improve their quality of life. This partnership involves the implementation of sustainable engineering projects, while involving and training internationally responsible engineers and engineering students. The activities of EWB-USA range from the construction of sustainable systems that developing communities can own and operate without external assistance, to empowering such communities by enhancing local, technical, managerial, and entrepreneurial skills. These projects are initiated by, and completed with, contributions from the host community working with our project teams.
---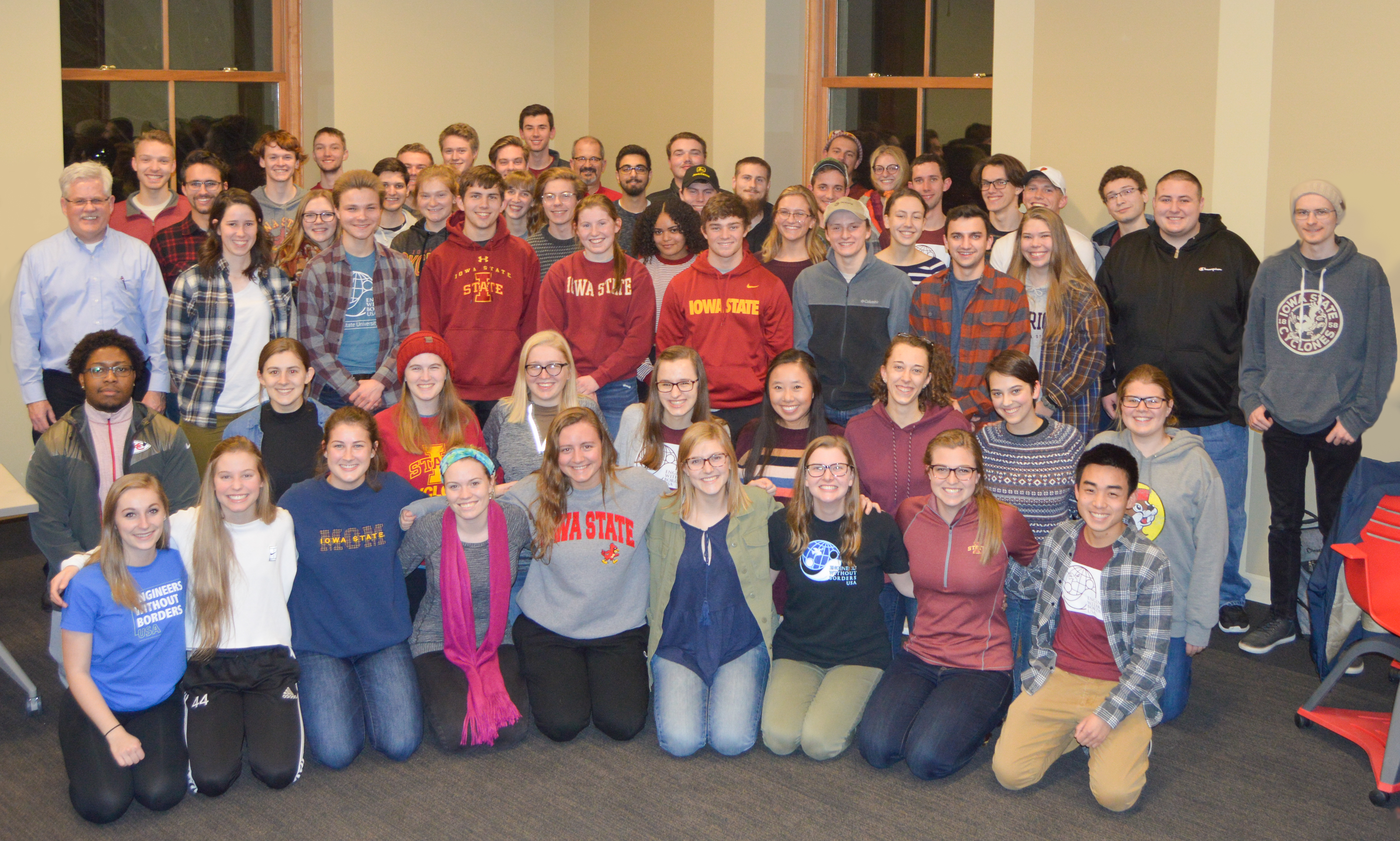 Be part of changing the world- one engineering project at a time!
---
Meetings, Wednesday, 7:30 pm, below for room location**
-Hear speakers
-Break out into groups to work on outreach, fundraising, and engineering projects
-Numerous ways to be involved and take leadership
-Be part of a fantastic community
-All majors welcome- Needs for students who love graphic and web design, social media, organizing information, planning social events, sustainability, engineering, problem-solving, hydrology and water resource management, soil, and agriculture (just to name a few!)
New members are encouraged to attend NEWB in Pearson 1115 to learn more about the club and figure out which team they should join! NEWB is our program for new members to learn more about Engineers Without Borders and our projects.
If you are a new member and you are not yet added to the NEWB Microsoft Teams page, please contact Lexi Lambros (alambros@iastate.edu) to get added!
Due to room capacity limits, NEWB-attendees must sign up to attend in-person prior to each NEWB meeting (see Microsoft Teams Page for more info).... If you can't get an in-person spot, don't worry! All meetings are streamed live via. Microsoft Teams.
**Weekly Wednesday meetings for Spring 2021 are being spread across several locations in order to practice social distancing and comply with Iowa State's 50% capacity rule for rooms. Once a month we will gather as a whole club in Carver 001 for a General Meeting.
All other meetings will be Project Group Meetings, with room assignments being based on what group you belong to.
All meetings will be streamed via Microsoft Teams for members who would feel more comfortable joining from home.
General Meeting dates for the fall semester: February 3rd, March 3rd, and April 7th
Project Group Meeting locations:
Groups
Room Assignment
Group Lead
Contact Info

Clinic: Roof

Pearson 2105

Abigail Libbesmeier
alibbes@iastate.edu

Clinic: Layout

Pearson 2105

Aden Harzman
harzman1@iastate.edu
Clinic: Foundation

Pearson 2105

Tiaunna Little

tlittle@iastate.edu
Clinic: Power

Pearson 2115

Nate Ahlers
njahlers@iastate.edu
Clinic: Sanitation
Pearson 2115
Sarah Stewart
sgs1@iastate.edu
Water 2.0
Pearson 2157
Lucas Eddinger
lucase@iastate.edu
Domestic
Pearson 2157

Linnea Yokup

layokup@iastate.edu

Rainwater Catchment/Ag/Irrigation
Pearson 3149
Matthew Butler
mjbutler@iastate.edu
Kitchen Stoves
Pearson 3125
Jairenne Ofilanda
ofilanda@iastate.edu
Shea Nut
Pearson 3125
Caleb Kilby
cmkilby@iastate.edu
Fundraising
Pearson 1105
Mary Okkema
mokkema@iastate.edu
Communication
Pearson 1105
Jolie Jacobus
joliejac@iastate.edu

NEWB

(New Members!!)

Pearson 1115
Lexi Lambros
alambros@iastate.edu
---
"Behind the Scenes", Tuesdays at 6:00 pm, Black 1028 (and online via Microsoft Meetings)
-Prepare and plan next general meetings
-Brainstorm, plan, and evaluate activities and events
-Discuss new club opportunities
-Everyone is welcome! A great way take leadership and learn how to operate a student organization.
Use join code: nw3oi3A to attend online
---
We have since updated our site!
If you would like to learn more about Engineers Without Borders at Iowa State, go to http://www.ewb.stuorg.iastate.edu .
If you are trying to donate to our organization, you can click the above link, or be directly routed to our donation page here: http://www.ewb.stuorg.iastate.edu/donate/ .