Engineers Without Borders ISU
Engineers Without Borders is a non-profit humanitarian organization established to partner with developing communities worldwide in order to improve their quality of life. This partnership involves the implementation of sustainable engineering projects, while involving and training internationally responsible engineers and engineering students. The activities of EWB-USA range from the construction of sustainable systems that developing communities can own and operate without external assistance, to empowering such communities by enhancing local, technical, managerial, and entrepreneurial skills. These projects are initiated by, and completed with, contributions from the host community working with our project teams.
We have since updated our site! If you would like to learn more about Engineers Without Borders at Iowa State, please click the link here: http://www.ewb.stuorg.iastate.edu/ .
If you are trying to donate to our organization, you can click the above link, or be directly routed to our donation page here: http://www.ewb.stuorg.iastate.edu/donate/
---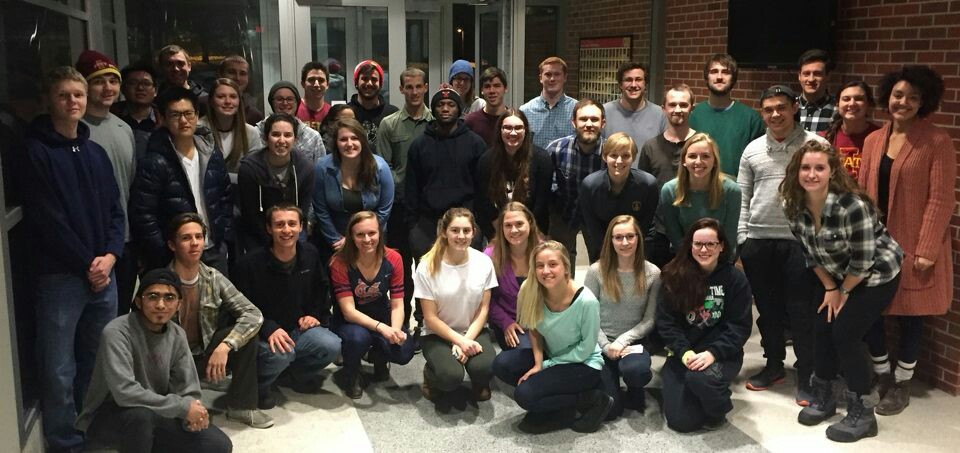 Be part of changing the world- one community at at time!
General Meetings - Wednesday, 7:30pm, 2200 Marston
-Hear speakers
-Break out into groups to work on outreach, fundraising, and engineering projects
-Numerous ways to be involved and take leadership
-Be part of a fantastic community
-All majors welcome- Needs for students who love graphic and web design, social media, organizing information, planning social events, sustainability, engineering, problem-solving, hydrology and water resource management, soil and agriculture (just to name a few!)
Behind the Scenes Meetings - Tuesday 5:00pm, 2300 Marston
-Prepare and plan next general meetings
-Brainstorm, plan, and evaluate activities and events
-Discuss new club opportunities
-Everyone is welcome! A great way take leadership and learn how to operate a student organization.
Find out more about EWB-ISU at http://www.ewb.stuorg.iastate.edu/