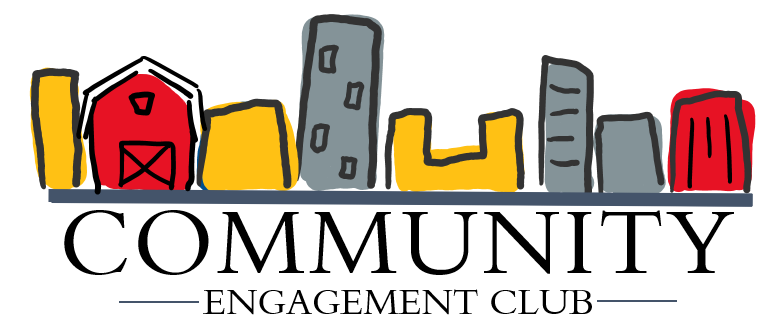 Welcome to the club page for the Community Engagement Club!
Check back here for information and updates regarding announcements, activities, and meetings.
---
The Community Engagement Club is for students and members of the community who understand and seek to promote the importance of engaged scholarship and collaboration between the university and organizations/communities in Iowa. As members of CEC, we use an ISU online portal, GivePulse, to facilitate community engagement. If you are interested in leadership, volunteering, and/or applying your research to help communities in Iowa, CEC is the club for you!
News & Announcements
January 15, 2021

Consider signing up for LD ST 291A in Spring 2021

Hi everyone! Forwarding you information via the Leadership Studies Program and Student Activities Center. If you are looking to enhance your leadership skills and make your resume shine, this is a great opportunity for you.

Are you looking for ways to give back to the community? Do you want to learn more about important issues and how you can help address them? The Leadership Studies Program and Student Activities Center invite you to join LD ST 291A (Section 2) Leadership through Service Learning. You will have the chance to learn about multiple forms of service and civic engagement, the relationship between leadership and types of service, and be part of the Leadership ISU Learning Community. Joining the learning community is an especially great opportunity for transfer students to help you acclimate to ISU with peer mentor support. Some service opportunities will be pre-identified and organized, though you may also participate in service activities of your choosing. Examples of service opportunities include Alternative Breaks, Campus Service Day, the Non-Profit Protege program, and the Virtual Volunteer Fair. The 3-credit class will meet on TR 3:40-4:55 PM. LD ST 291 counts as an elective for the Leadership Studies Minor and Certificate. Questions? Contact Dr. KP Williams (kpwill@iastate.edu).
December 17, 2020

Who We Are: Community Engagement Club

Check out this short animation created by our officers Bethany McCurdy and Ashley Paulsen about the mission of the Community Engagement Club!
October 20, 2020

Coloring the Conservation Conversation - Dr. Drew Lanham

A native of Edgefield, South Carolina, J. Drew Lanham is the author of The Home Place: Memoirs of a Colored Man's Love Affair with Nature, which received the Reed Award from the Southern Environmental Law Center and the Southern Book Prize, and was a finalist for the John Burroughs Medal. He is a birder, naturalist, and hunter-conservationist who has published essays and poetry in publications including Orion, Audubon, Flycatcher, and Wilderness, and in several anthologies, including The Colors of Nature, State of the Heart, Bartram's Living Legacy, and Carolina Writers at Home. An Alumni Distinguished Professor of Wildlife Ecology and Master Teacher at Clemson University, he and his family live in the Upstate of South Carolina, a soaring hawk's downhill glide from the southern Appalachian escarpment that the Cherokee once called the Blue Wall. Paul L. Errington Memorial Lecture

WebEx link: https://iastate.webex.com/iastate/j.php?MTID=m2f753115525b4f693e12e3e78d2dd7c2

Password: yGG32ea3yVw
October 19, 2020

Reflections on the Current Realities

Hi all!

Check out this event posted and mark it on your calendar for October 21 from 1pm to 2pm!

"We are excited to continue our Community Engagement Practitioner Gatherings with next week's discussion webinar, Reflections on the Current Realities. In this webinar, we will be joined by guest panelists Hannah Cherry, Program Coordinator - Community Based Learning at Portland Community College; Marissa Haynes, Coordinator of Service Outreach at Seton Hill University; and Linda Moody, Director of Service-Learning at University of Nebraska-Lincoln. After the panels, we will break up for small-group discussions. Topics for these discussions will include Virtual/Remote Engagement, Managing Risk and Liability, Supporting Community Partners, and more; you can select your preferred topics of discussion during the registration process."
September 23, 2020

Webinar: local engagement for scientists

Hi everyone! The National Science Policy Network is hosting a webinar on Local Engagement Opportunities for Scientists. See the following for a description of this event:

While federal policy and politics tends to dominate the national headlines, the importance of policy-making and implementation at the state and local government level often gets overlooked. Recent events, such as the COVID-19 pandemic and discussions of racial justice and police reform, have highlighted the critical role of city, county and state governments. In this webinar, Engineers and Scientists Acting Locally (ESAL) will discuss the ways in which scientists can engage with local government, and use their expertise and inquiry driven, evidence-based approaches to inform policy decisions. We will highlight examples of scientists who have made substantive contributions to their communities, often without a major career shift. The presenters will also draw on their own experiences working in local government to share in-depth case studies. This workshop is intended for scientists at all stages of their careers, including students. We hope that attendees will leave inspired with new ideas for how they can get more involved in their own communities.

I have signed up for this webinar myself- it looks like it's going to be both interesting and very informing! I encourage club members who are interested to attend. RSVP here: https://esa.zoom.us/meeting/register/tJEufuqorDouHNNcEpqcDaM8OhxbX1W8nPsb