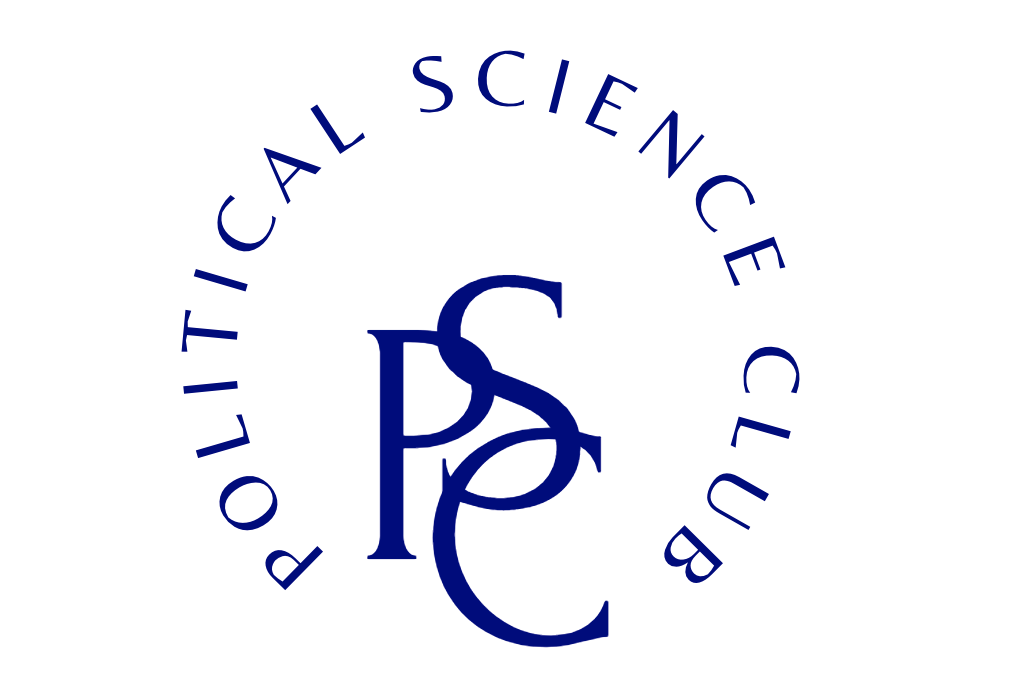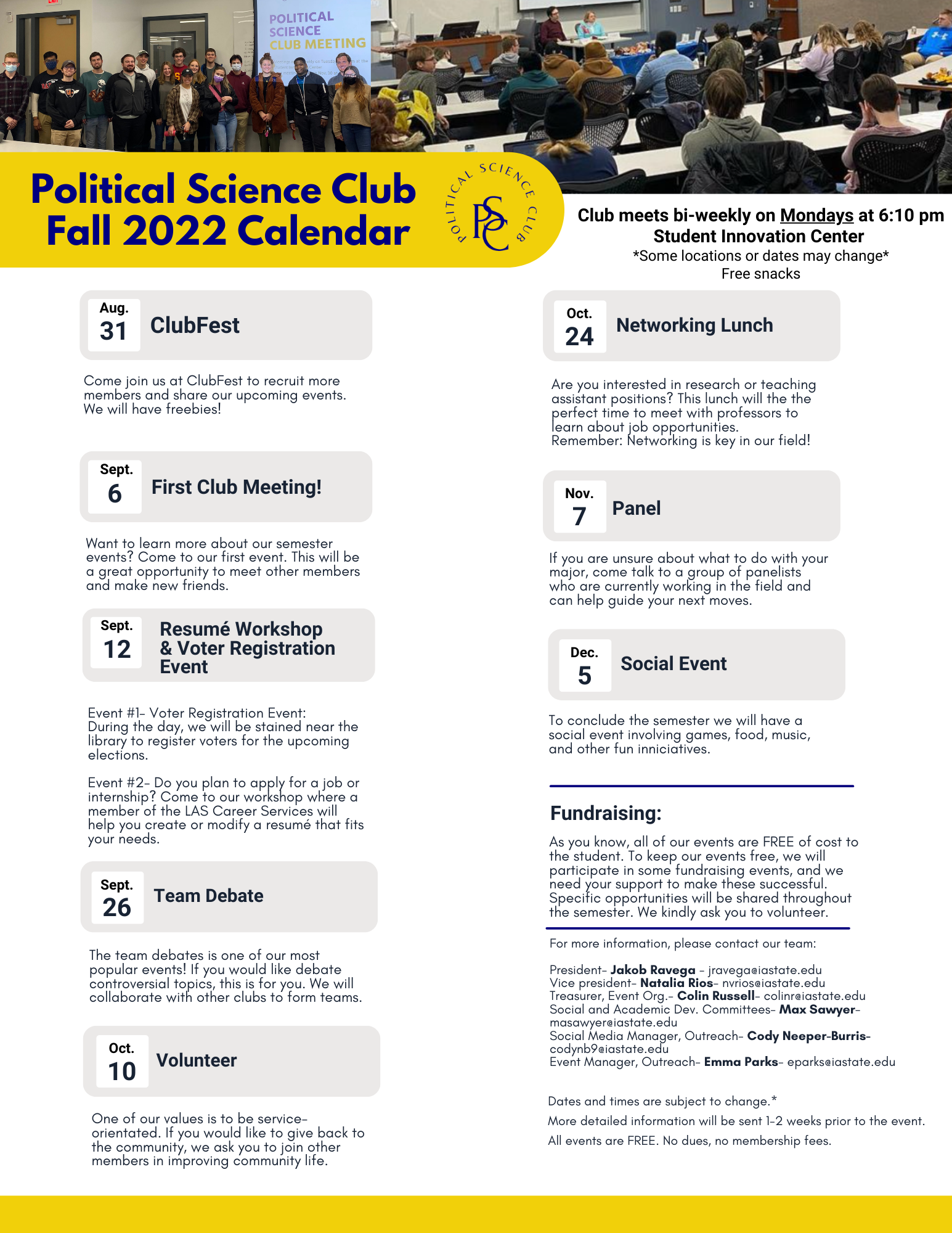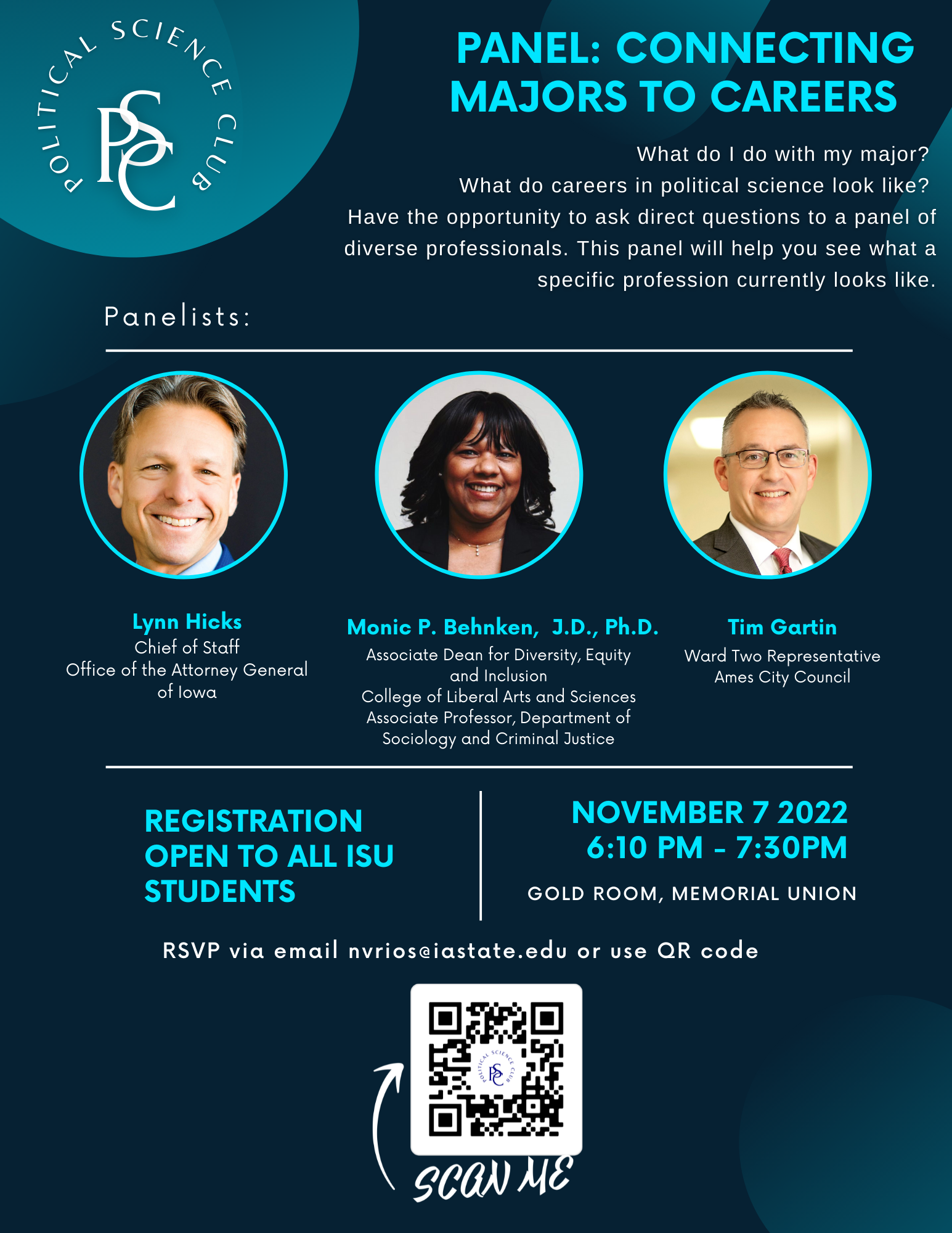 Purpose, Mission & Vision
Purpose
The Political Science Club (POL S Club) is a non-partisan student organization that provides an opportunity to develop professionally and academically. We aspire to create a community of support for students studying political science or who have related interests.
The purpose of the club is to create a community where students can gain and develop skills for college and the workplace to explore careers related to politics and government. The club's activities will supplement the theoretical experiences offered by political science courses. The club also promotes and participates in departmental and campus activities related to politics and political science.

The club does not intend to promote any specific political ideology or party; instead, we will offer students opportunities to grow professionally and academically. Students will be encouraged to use their critical thinking skills to reach conclusions of their own. We understand that people have personal political ideologies, so we will foster an environment where different viewpoints are respected.
*This club is not limited to Political Science majors.*
Mission
To create a diverse community where students interested in politics can acquire and develop professional skills through relevant workshops, lectures, conferences, networking opportunities, field trips, and other professional development activities.
Vision
To create a diverse community of students who acquire professional skills useful for careers in politics and related fields.
When do we meet?
The club meets biweekly on Mondays at 6:10 pm at the Student Innovation Center
What you can expect at a meeting:
Now that you have decided to take time the time to invest in yourself and your future career, we want to make sure this is a fun and enjoyable experience. Every meeting will be somewhat different, but we can promise you that we will have the opportunity to:
Have guest speakers in the political science arena (and related fields) such as lawyers, attorneys, senators, legislators, government officials, diplomats, running candidates, lobbyists, political scientists, professors, consultants, policy analysts, legislative assistants, and a lot more.
Go on field trips to the Iowa Statehouse and/or other places of interest
Learn about scholarships
Learn about internship opportunities (local, and national, international)
Learn about volunteer opportunities
Discuss the current political climate or other topics
Have moderated debates
Be part of a community with similar interests
Professional development is one of the primary purposes of this club, which is why we offer tools for:
Career development
Building your personal brand
How to identify your skills
How to transfer your skills and knowledge to employers
Entrepreneurship
How to build a strong resumé and cover letter specific to our field
How to build your network (even if you are an introvert)
Job and internship searching
Having strong application materials (essays, personal statements etc.) for professional opportunities
Job interviews
Job and salary negotiations