Club Awards
Club Awards
Club awards are voted on by club members each spring. The awards serve as a way to recognize outstanding club leaders throughout the club. Participation in club activities, willingness to volunteer and help out with club events, along with a positive attitude are vital to winning these awards. The award recipients have given a vast amount of his/her time and energy to the Iowa State Block and Bridle Chapter; this member's scholarship, awards, activities, positions held, and class standing are all taken into consideration.
Rules & Requirements:
The Outstanding Sophomore, Junior, and Senior Award Recipients must be an Animal Science major or minor.
The Leadership Awards is given to a member that is not an Animal Science major or minor
The Honorary Member Award Winner must not have been a member of the Iowa State Block and Bridle Club during their collegiate career.
2019 Club Award Recipients:
Outstanding New Initiate: Benjamin McClain
Outstanding Transfer Initiate: Caitlyn Wileman
​Outstanding Sophomore: Harrison Furlow
​Outstanding Junior: Justin Swanton
Outstanding Senior: Macy Marek
Leadership Award: Kody Frauen
Honorary Member Award: Andrew Zehr, Director of Marketing & Recruiting at Iowa State University College of Agriculture and Life Sciences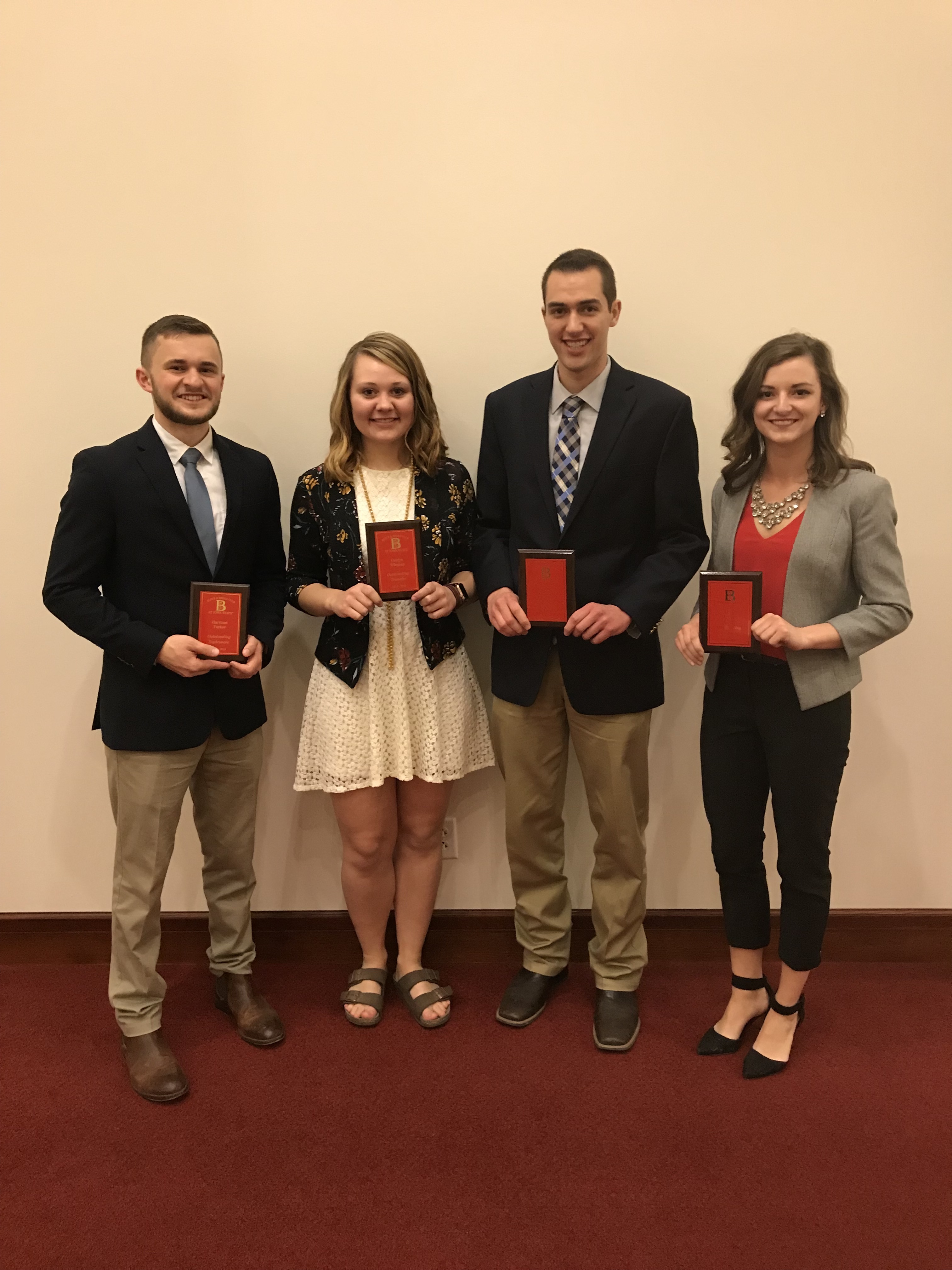 From left to right: Harrison Furlow, Caitlyn Wileman, Justin Swanton, Macy Marek
Scholarships
The Block and Bridle Club awards annual scholarships to its top deserving members in each class category (classified by the number of college credits completed) using the profits from its annual live Cake Auction. Three faculty and staff members from the Animal Science Department are selected each year to serve on the scholarship committee. This spring, the Block and Bridle Club was able to award (4) $450 scholarships to deserving members.
2019 Scholarship Recipients:
Freshman Scholarship Recipient: Benjamin McClain
Sophomore Scholarship Recipient: Jake Sterle
Junior Scholarship Recipient: Mikayla Spinler
Senior Scholarship Recipient: Justin Swanton